Industry Oil » Hydraulic Oil HVI
GRADES: VG 32, 46, 68, 100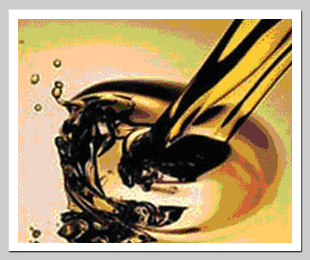 Introduction / Specification of Hydraulic Oil HVI :
Hydraulic Oil HVI are premium grade high viscosity index hydraulic oils which have excellent shear stability and can withstand wide range of temperatures. Hydraulic Oil contain special additive package that reduces wear, rust, oxidation, etc, and imparts good hydrolytic stability and water separation characteristics. Good anti-foam and air release properties ensure smooth operation and system efficiency. They have excellent compatibility with seals normally used in hydraulic systems.

Application / Composition of Hydraulic Oil HVI :
Hydraulic Oil HVI are mainly recommended for hydraulic excavators of Tata-Hitachi, L & T, Komatsu, etc. and can also be used for suitable industrial applications.

Performance Level of Hydraulic Oil HVI :
DIN 51524 Part 3

Typical Properties of Hydraulic Oil HVI :

CHARACTERISTICS
Hydraulic Oil HVI
32
46
68
100
KV at 40°C
30 - 34
44 - 48
66 - 70
95 - 105
VI, Min.
150
150
135
130
Flash Point, COC, °C. Min
160
160
160
190
Pour Point, °C. Max.
-39
-39
-33
-27

Packing of Hydraulic Oil HVI : 210 Litres Drums.
Date of issue: 01.07.2009
PDS No. 20230 - 20233




Manufacturers, Exporters and Suppliers of Hydraulic Oil HVI from INDIA.

Our Quality prices products are being used in various countries like i.e. India, Srilanka, Bangladesh, Italy, New Zealand, France, Mauritius,Switzerland, Pakistan, Nepal, Myanmar, Vietnam, Thailand, Malaysia, Singapore, Philippines, Middle East Countries - UAE cities as Sharjah, Dubai, Abu Dhabi, Saudi Arabia, Qatar - Doha, Oman - Muscat, Iran, Iraq, Kuwait, Jordan, Egypt, African countries i.e. Nigeria, Ethiopia, Egypt, Uganda, Mozambique, Namibia, South Africa and western countries like UK, Brazil, USA, Argentina, Uruguay, Peru & European countries like Germany, Turkey, Spain, Netherland, England More...

Hydraulic Oil HVI can be mixed and processed as toll blending product into a final product production.

DISCLAIMER: The information given here is considered to be correct & is offered for your consideration, investigation & verification. No Warranties are expressed or implied, since the use of products are beyond our control.